BERES
S-06
DRIVER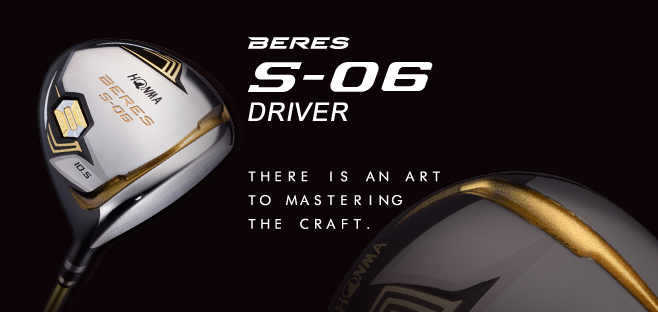 TECHNOLOGY
Longer distance
KEY GROOVE AREA corner portions are connected to the crown, sole and face provide more face repulsion at impact.
Curve is emphasized along the crown, sole and face

KEY GROOVE AREA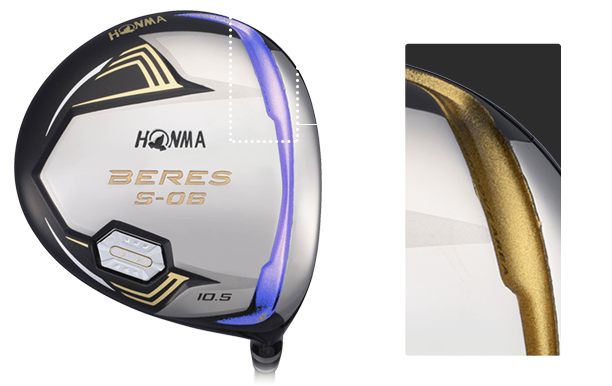 Expanded sweet spot
Expanded effective sweet spot provides increased confidence at address.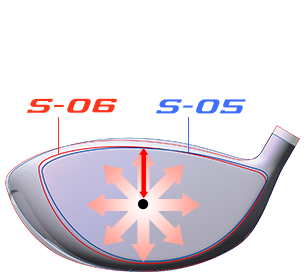 Face area: 105%
Effective spot area: +0.5mm
(Compared to the previous model)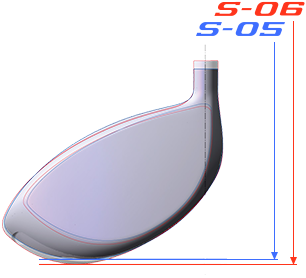 The length from the neck to the edge of the toe is longer than the S-05 (previous model), enhancing the MOI.
More confidence at address
Shallow shape provides visual confidence at address which help leads to a smoother swing.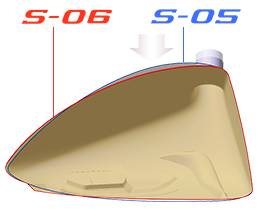 Shallow shape includes reduced curve at top of crown.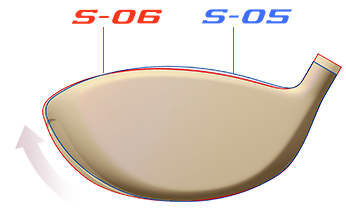 The up-lie shape allows toe to be upright on the crown and low neck.
SPEC BERES S-06
Head material / Manufacturing process
Ti811 lightgravity titanium / Casting
Face material / Manufacturing process
Ti5N titanium / Rolled
Shaft
ARMRQ X 47, ARMRQ X 60,
ARMRQ X 52, ARMRQ X 43
Length (inches)
46.0
Loft (deg.)
9.5
10.5
Head volume (cm3)
460
Lie angle (deg.)
60.0
Distance to Center of Gravity (mm)
40.0
41.0
Height to Center of Gravity (mm)
33.5
34.5
Effective hitting area (mm)
24.5
23.5
Depth to Center of Gravity (mm)
37.0
38.0
Gravity Angle (deg.)
23.0
23.5
Swing weight・
Gross weight (g)
ARMRQ X 47
R
D1・280
SR
D2・283
S
D2・284
ARMRQ X 60
R
D1・305
SR
D2・308
S
D2・309
SX
D3・312
X
D3・313
ARMRQ X 52
R
D1・289
SR
D2・292
S
D2・293
ARMRQ X 43
R
D1・276
S
D2・279
Data refers to the 2S grade
Made in Japan
SHAFT ARMRQ X
Please click here for details of shaft.

ARMRQ X 47
(Standard feature)
Material
Carbon + ten-axisUD
Kick-point
Low-mid
Flex
R,SR,S
Tip diameter (mm)
8.6
Butt diameter (mm)
R
15.3
SR
15.3
S
15.4
Gross weight (g)
R
47.5
SR
49.0
S
50.5
Torque (deg.)
R
4.80
SR
4.75
S
4.70
Frequency (cpm)
R
236
SR
244
S
252
Data refers to the 2S grade/shaft only
GRIP

| | |
| --- | --- |
| Name | BERES RubberⅢ N38 Gold |
| Material | Rubber |
| Shaft | ARMRQ X 47, ARMRQ X 43 |
| Gross weight (g) | 38.0 |
| Size | 60 |
| | |
| --- | --- |
| Name | BERES RubberⅢ N43 Gold |
| Material | Rubber |
| Shaft | ARMRQ X 52 |
| Gross weight (g) | 43.0 |
| Size | 60 |

| | |
| --- | --- |
| Name | BERES Rubber M60 White |
| Material | Rubber |
| Shaft | ARMRQ X 60 |
| Gross weight (g) | 49.5 |
| Size | 60 |
Data refers to the 2S grade
Source:  http://www.honmagolf.co.jp/en/item/club/driver_s_06.html